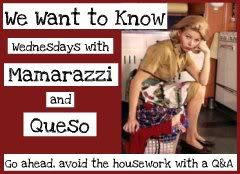 Hosted by Mamarazzi and A

licia aka

Queso
6 questions this week- here we go:
1. What is your favorite holiday?
2. Do you have any fun holiday traditions? What are they?
3. When do you start Christmas shopping?
4. What is your favorite holiday food?
5. Share a favorite childhood holiday memory?
6. Have you ever actually tried fruitcake?
1: All of them. What can I say, I don't play favorites. Oh wait, yes, I do.
2: Fave traditions are that Santa comes early on Christmas Eve and leaves us jammies or blankets and a game or movie and some yummies to eat. Because he likes us best and we're cute. ;-)
3: This year I am winning Christmas, most years I start shopping right after the new year all the kick butt clearance deals.
4. Fudge. And stuffing - I can give up everything else but the stuffing. I often do so I can overeat stuffing and not be sick for days.
5. I don't really remember much as a kid- when my dad was drunk the holidays were ruined cuz mom tried too hard to make it up to us. Fail. I have a great one from when Dawn was little though- Santa had tacked up a couple of sheets over the living room to hide her dollhouse and possibly a bike or something I don't remember- I woke up when it was still dark and went to make coffee and saw a little butt sticking up in the air and feet sticking out from the sheet- sure enough Dawn fell fast asleep looking at the tree and the presents that were unwrapped.
6. No. And if I ever get one I WILL use it as a doorstop.