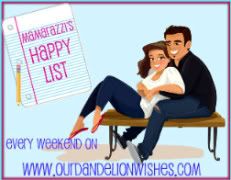 I have been annoyingly happy lately, so it seemed appropriate that I should write the happy list today.
First, I am still coming down from vacation buzz, even though it was two weeks ago! It was so much fun at the beach. I was encouraged to eat stew with my fingers at a really fancy restaurant, I got to spend hours in the bookstore with a boyfriend who was just as happy killing time there as I was, I got to test a not yet officially released roller coaster at Busch Gardens... everything was amazing! And frankly, I would have been happy even if we just stayed on the beach the whole time.
I am very happy for good books. I've been on a fantasy kick lately- currently reading Terry Goodkind's Wizards First Rule- loving it so far. It is wonderful to escape into a fantasy world for a while.
I love baby snuggles. I am happy my job is to snuggle babies! One of the women I sit for is amused, she says I'm so good with the babies because I can think like a six month old! This idea came about when I narrated the thought process of him trying to get a piece of food that was stuck on his mouth, she is pretty sure I got it word for word. I think he just likes me because I play dinosaurs with him every day! RAWR!
Playing dinosaurs makes me happy, I don't know why. It just does. Raptors are the best, Baby Bean has mastered pterodactyls, and T-rex makes both babies giggle until they fall over.
I am always happy for good food! Right now, Bubble Tea is on my mind, I'm going to try and make that this afternoon.
I am happy for good music. I've had Train's "Get To Me" in my head for a while now. I blame the boyfriend for that one.
What is on your happy list today?