It's time once more for We Want To Know Wednesday brought to you buy
Mamarazzi and

Alicia aka

Queso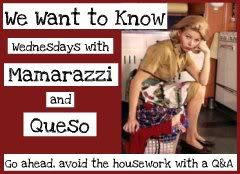 This week's questions are from Mamarazzi and there is a chance to win a prize.

{1} Did you live in the same town or move around a lot as a child?
{2} What were your parents like?
{3} Do you have any siblings? What were they like growing up?
{4} Share a short story from your childhood.
{5} What did you look like? (share a childhood pic for a chance to win a prize)
1. I lived in 3 different houses as a child. My kids lived in LOTS of places- we moved more than other people take vacations.
2. My mom was (and is) awesome, my best friend and most trusted confidant. My dad was the complete opposite- very handsome and charismatic (think Elvis or the Fonz type) and everyone (who didn't live with him) adored him, but he was an alcoholic.
3. I have one brother a year older and one sister three years younger. I guess we got along okay though we had different groups of friends though they sometimes overlapped.
4. Hmm when I was little I used to think all the fireworks etc on the 4th of July were for my grandpa. Seriously, yes, I thought the whole world celebrated- he rocked and everyone loved him. I was a lot older than I will admit to here when I realized they were celebrating America's freedom & independence.
5. I don't have any pics of me as a kid.
How about you? Are you playing along? We Want To Know.