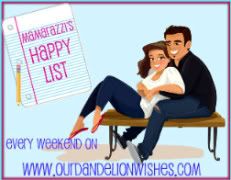 Lots to be happy for this week.
Dawn and Casey started classes on Thursday, with a lot of fun and games as well as learning the campus earlier in the week.
Dev's root canals are done- a little drama and a couple days off with it, but it's over and done with now.
The new pup is definitely one of ours- a total derp- the older dogs are getting used to having a new pup as are we with all the chewing and yipping.
Ken's starting a political/historical blog which is a big fat yay- he's needed a hobby since his forced medical retirement (way too early) and this will hopefully mean the tv won't be on all the dang time.
Gamer girlie and a friend are doing the youtube thing with some games for anyone interested in that kind of thing- they will also start vlogging soon.
The mini diva is also going to be vlogging hair/beauty/makeup tips as well as some how to make your own products that are effective.
Dev was able to get her DSLR camera for a better price than she thought and it should be in this week, as well as a darling bag from Etsy.
I've been putting some memories on
Divas Cuisine
- our sense of taste and smell is so strong, just a reminder can bring us right back. If you are into that sort of thing, or want to know what I was like growing up (and how I broke my arm when I was a kid) check out
Sunday Dinner at Nana's House
.
Ki made the most gorgeous infinity dress- for $12 in fabric and good thread she has a darling dress that can be worn multiple ways. (Yes, that's it in the photo- ignore the tank she was just trying it on there.)
Ian's been so wonderful lately- when he's not being a holy terror- and that's NOT just when he's sleeping (close, but not quite the only time, lol.)
We're going to be getting some giveaways up (finally) so vacation is officially over.
That's probably enough, I've got Christmas to win! What do you have to be happy for this week? Link up by clicking the adorable button at the top of this post and play along.