I remembered again, yay me. That's a happy for sure. Don't know what I am talking about? Head on over to
Dandelion Wishes
where Mamarazzi has a link-up to post our happy lists every weekend. Join in or add your happys here in the comment, we'd love to celebrate with you.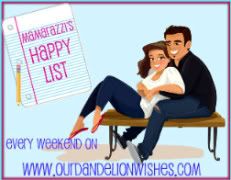 Dev won an all expenses paid trip for two to Cancun and we're making plans to go on June 10th if possible (we'll know within the week if they can get the date we want or not) and meet up with my *5th* daughter (we have created family as well as blood) and her husband and 6 kids.
I have been on my eating plan for 4 days and lost 3.8 lbs. And it wasn't hard since I tailored it to things I can/will do. *knocks wood*
We're planning a little surprise for Geeky Mommy tomorrow (combo mothers day and late b-day) and she has no idea. Just a little party with a cake specially decorated by Ian (pics to follow) and a few pressys- she thinks we didn't do much for her b-day just gave her some $ and gc's I won so she can get what she wants/needs for the little cottage she's moving into and what she did with her friends on the actual day. Love surprises.
The lake is still high but the water is off the bridge/road and the sun is shining. (That was really trippy having it blocked and the school telling Dev she can't get home- luckily Ki was in town and they had a friend to stay with.) When Dev's work found out she couldn't get home to her stuff they gave her some $ so she could get what she needed even though she said she didn't need it - they insisted. Not sure if that is store policy or her manager or what but TJ Maxx rocks for that. (And the great prices and really, really cute clothes. And housewares. And if you are a foodie the spice selection in the gourmet aisles are extremely reasonable and they have a wonderful selection.) Yeah, we're Maxxinista's and if you aren't one too, you should check them out- you will be. Great products and super low prices, every day.
Dawn has almost everything she needed to do done and will be going to UCA this fall- she's trying for extra scholarships now- wish her/us/them luck! The other girls are gathering all they need as well, but Dawn had stuff to get from several states and they lost her shot records along the way somewhere so she had to get all that done too. It's all coming together, though.
They finally finally got to the paperwork to get some help with the medical bills (from my weeklong stay in December) so we'll hear on that sometime in the upcoming week as well hopefully.
I can have as much coffee as I want with the eating plan I devised. Which is good, because I don't believe I would have made it otherwise, probably not even tried.
Our local stores (especially Kroger) are doing great about getting more better for you foods in- the organic produce section has expanded, there are a lot more all natural, free range, hormone free, etc choices and they aren't completely ridiculously priced. (And lots of times I can find them marked down on a manager's special.)
Have I mentioned that Kroger and I have a deep and passionate love affair going on? They love my money and I love the deals and choices. And the girls love the sushi- for around here in the land of meh food, it's really quite good and not horribly spendy.
I have found some new bloggy buddies through these meme's I find at
Mamarazzi's
(I love these ones because they are not just follow me and I'll follow you back to boost our numbers so we can get better sponsors, you actually get to find out about the other bloggers).
What are you happy about this week? Inquiring (nosy) divas want to know. If you post, link on up and join the party, or share here and we'll stop by your blog and say hi as soon as we can.
XOXOX Dddiva