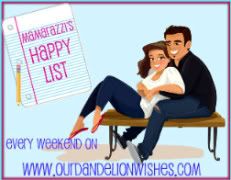 I am happy my family is as screwed up as I am. (I know, right, seems like a dumb thing to be happy about but honestly, I don't think I'd fit as well with anyone else.)
So this am Casey and I are talking on MSN about Rapture - she's so what do you think it is? I told her that the most prevalent versions are that all of the "true believers" would be whisked away to heaven and the rest of us are stuck here in hell on earth (basically, no change); or that there would be some sort of implosion; and that I personally thought there was a better chance of a zombie apocalypse. Here's her response:
Oohhh
Zombie apocalypse!
I vote that one.
Yeah, I heard like "The dead will be raised"
and I'm thinking: Oh yeah, party with the messiah guys! ahaahahahahha
So, there you have it- proof positive my family is as nuts as I am- or that I messed them up bad raising them and they need immediate therapy. You be the judge. ;o)
I am happy that although I've been a slacker most of this week- my bad- I remembered to make my happy list.
I am happy that I am eating really yummy foods and still losing weight- I think it helps that so many awesome fruits and veggies are in season (still expensive, but manageable). 17 days, 11 lbs, 6 ozs down.
I am happy that our plans are set- we're leaving for Cancun on the 10th and getting to meet up w/Trina and the gang while we're there.
I am happy about a lot of other things too but in keeping up with slacker week I'll post them another time.
What are you happy about? Head on over to Mamarazzi's Dandelion Wishes and join in the fun.