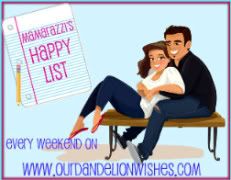 Geeky Mommy has taken over the happy list! I have a lot to be happy for today! Head on over to Mamarazzi's to play along.
I am happy for picnics! We are having the first picnic of the year, a big potluck picnic! I can't wait, we are getting everything ready now!
I am happy for good food! We have so many wonderful things to eat. I just finished making the brownies-yum!
I am happy to finally have good weather! Woo-hoo!
I am happy for Tangled. Ian has been watching it since we bought it, I love how disney is making their heroines strong-willed and awesome now! In this one, SHE even saves the guy!
I am happy for this, too. It makes me giggle.
I hope you are all having as good a weekend as we are!