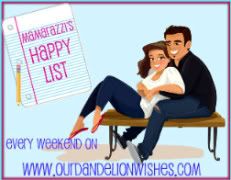 I am happy I decided to play happy list again (and have the oomph to do more than stare blankly at the computer).
I am happy that we'll see lots of loved ones tomorrow and share good food and good times.
I am happy that the mini diva is going to help Dev and her friends get ready for prom.
I am happy that I got the winners chosen- now to email them (going to try very hard to get it done this weekend).
I am happy that the girls are getting down to business and doing what they need to get done to move forward and advance themselves.
I am really happy with a new recipe we tossed together this week (we'll be posting on the
food blog
soon) omg it is so good and easy.
I am happy for access to sinus/allergy pills that make breathing possible and even more happy for the caffeine that means I do not sleep allergy season away. Yay coffee!
I am happy that my dogs love me even when no one else (including me) can stand me. I really <3 my doggies.
I am happy with a few new books I've gotten lately - nothing like a great read to get over yourself or at least temporarily forget the crap you are mired in.
I'm happy that I have some giveaways to get posted for y'all this week- love being able to do that and sorry for the slack but sometimes life kicks my butt just a little harder than is comfortable and I need to take a breather from it all. I'm really happy everything is waiting for me where I left it when I get back in the game.
What's on your happy list? Head on over to
mamarazzi's
and link up and to read more happy.
XOXOX Dddiva