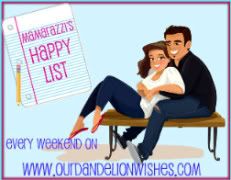 So I have to get one big not so happy out of the way, then I am playing the happy game. See the cute button *points up* snag it and play along, you know you want to. Anyhoo Dawn had a really big pile of crap fall on her (after finally shoveling off the other big pile) and said well it can't get much - and I literally lunged at her screaming "don't you say that don't you dare finish that sentence or whatever craptacular sh*t you think you're in now will get a gazillion times worse." Not that I'm superstitious, just that I know the powers that be are demented and love to prove you wrong on that one. Just sayin'. Fortunately the words did not finish leaving her mouth so we should be in the clear. *Wipes forehead* "Whew, that was a close one."
While I guess that worked out to a happy, here's my real list:
Ian has been in the best mood ever. I'm shocked too, but not questioning our good fortune.
I still smile every time I see my Caribbean blue walls in my living room- yeah, it's not for everyone but it's perfect for me.
I thought I might be getting back into blech mode, but luckily, this time it passed with just a couple of days of misery and I could handle it with the meds I had at home.
I got some really yummy creamy vanilla swirl candles on clearance. Woohoo love a bargain and have to have the delicious scents around.
With the exception of yesterday, it's been pretty nice here all week. Pretty sure winter is officially over in our neck of the woods.
We finally got a printer that is not a piece of crap from the get-go. And the ink is (for what ink costs) affordable. So was the printer. Yeah!
Dev is pretty sure she's going to go to UCA (yeah she still has a year to change her mind) because with her grades and whatnot she has already qualified for a full ride. Nice going, Cookie, we're so proud of you.
Breyer's ice cream has been on sale 3/10 (yes, I normally go for Mr's Ben & Jerry or Haagan Dazs, but they had some Heath we wanted to try and some all natural vanilla bean- and 3 big cartons vs 2 tiny pints- Breyer's won this week- and drizzling the Heath magic shell on the cone- delish!
That's it for this week- yay for Mamarazzi and the happy list- snag a button and play along, it'll put you in a great mood. :)
XOXOX Dddiva