I have absolutely nothing else that I should be doing *cough, cough, hack, hack* so when I came across this while playing Aloha Friday so thought I'd play along, maybe make some new bloggy friends. *waves hi* Join me, won't you?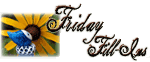 And...here we go!
1. Ian never fails to make me smile.
2. I'm looking forward to the Summer Bash.
3. Rise Against- Savior is what I'm listening to right now.
4. Potato salad must have Hellmann's mayo and paprika in it!
5. Coffee/Diet Coke was the best thing I ate today.
6. Today was laaaaaaaaaaaazy so far, hopefully will change to productive and I will get some reviews/giveaways listed.
7. And as for the weekend, tonight I'm looking forward to my AC getting fixed, tomorrow my plans include shopping and blogging and Sunday, I want to see where the winds take me!